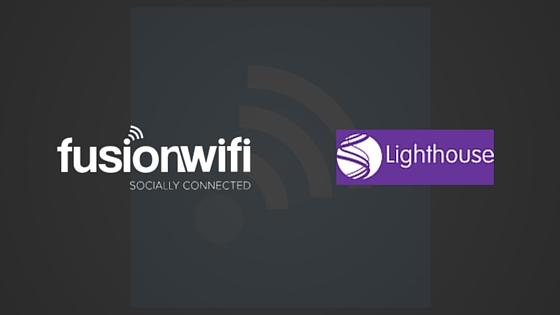 Bournemouth, Dorset, UK, 2nd March 2016: Fusion WiFi have joined up with the prestigious theatre, Lighthouse, Poole, to improve the free WiFi offering that their theatre goers receive. The move will see Lighthouse, Poole able to understand more about their visitors and gain a better insight into what they would like to see.
Adam Troman, CEO of Fusion WiFi said, 'this partnership is the culmination of a lot of hard work to make sure that Lighthouse, Poole fully understand how free WiFi can benefit them as much as the visitor.'
By partnering with Fusion WiFi, visitors at Lighthouse, Poole will benefit from easy Social Media login and being kept up to date about future events that shall be of interest to them.
'Our new product features that help businesses get more people coming back more often will really help the theatre drive revenues from returning customers and build awareness of what's on in Poole' Mr Troman continued.
Since the system went live in February, already over 300 people have already used the system. Through additional awareness of the systems availability it is hoped that this number will grow through 2016.
About Lighthouse, Poole
The Lighthouse is an arts centre in Poole, Dorset, England. According to the Arts council of England it is the largest arts centre in the United Kingdom outside London.
It has a 669-seat theatre, a 1,500 seat concert hall, a 150-seat studio, a 105-seat cinema, an Image Lab/media suite, a large gallery for photography and digital art, a restaurant and three function rooms. The concert hall is home to the Bournemouth Symphony Orchestra. LighthouseLighthouse is a source of inspiration and pride to community and the wider region
About Fusion WiFi:
Fusion WiFi Ltd is a WiFi platform provider, helping businesses turn their existing Free WiFi network into a smarter tool by enabling users to connect via social media channels. Fusion WiFi works globally, and is already proven across 5 continents.  Fusion WiFi  provide their service to Bournemouth Borough Council, covering high-traffic areas including the Triangle, Gardens, Bournemouth Square, Pier Approach and either side of Bournemouth and Boscombe Piers.  Working in collaboration with Bournemouth Borough Council, the network provides speeds of up to 1 gigabit – 100 times faster than the UK's average home broadband speeds, and is a speed  believed to be the fastest outdoor WiFi network in the world. For more information on Fusion WiFi's visit www.fusionwifi.com. Follow @FusionWiFi on Twitter.
###
Media Contact:
Marketing Team
Fusion WiFi
marketing@fusionwifi.com
+44-1202-912-202