Back in 2013, Fusion WiFi was born with the goal of making free WiFi easier for the business and the customer. It all stemmed from a frustrating experience in a restaurant with poor mobile signal, a terrible WiFi login system and a burning desire to get online to check some content. Two questions came to mind during this agony;
1) Why is free WiFi login so painful and annoying? Signing up felt like an interrogation.
2) What's in it for the business to provide free WiFi? It costs money and seemingly gives nothing in return.
Long story short, Fusion WiFi was born and connecting businesses to their customers through the medium of free WiFi was crucially important to us. In 2013, Social Media authentication was rare, very rare. Since then, countless copycats have sprung up offering the same product and promising to solve the same problems.
So we faced a huge problem. How do we remain the industry leaders in this field? With so much choice in the industry, we knew that some form of pivot was needed. And a weekend away in Warsaw was just the change of scenery and inspiration that we needed to realise something.
Fusion WiFi were in the business of data capture to help businesses connect with more customers via email and social media. But what we assumed all along was that the business benefiting knew how to use the data smartly and had the time to use it.
Our assumptions were totally wrong and we were a bit sheepish about the fact it had taken so long to realise this. And so our mini pivot was born – free WiFi would become of lesser importance and we would focus on the automated remarketing tools we can develop so that businesses can really generate return spend.
The future of technology (including Fusion WiFi's) is all about using it intelligently to grow your business through cost savings and revenue generation. IoT devices are going to be a game changer for huge corporates initially and in years to come they will benefit the small business and individuals. At Fusion, we decided to look beyond these technologies and focus on the relationship between the business and customer.
You can save all the money you want through 1% gains, but unless your generating increased revenue from your customers, it's not going to make any difference.
Fusion's technology is here to help you grow your business by using our intelligent technology to automatically get people back to your venue and spending more money. A partnership with Fusion WiFi means that we focus on getting your customers into your venue, while you focus on giving them the best experience possible.
You take care of making the best coffee, or the hottest dancefloor, or creating the best food. The list is endless. What our intelligent technology will do is make sure that you have the best chance of getting your customers back through your door spending more money.
WiFi truly is a utility in the modern world and not providing it can be seen as a negative consciously and subconsciously to your customers. Don't underestimate the needs of the modern customer in this respect.  But providing it doesn't have to be a negative, you can turn it into an overwhelming positive by embracing intelligent technology for the purpose of social connection.
Learn how to transform WiFi into an RoI tool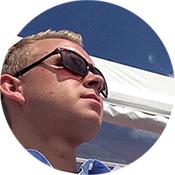 Paul Webster
Chief Operating Officer
COO at Fusion WiFi, Consultant at Silicon South. Proud Yorkshireman & Student of the Polish language.
Mainly responsible for shaping the financial and strategic direction of the business, but also love finding ways to create ROI for businesses and solving problems that they didn't know existed.  It's not about the WiFi, its about the interaction.