How many people start a business in hospitality and realise that they are going to have to become an active and strong marketer? Very few is my guess!
After all, people start businesses because they love doing something. Usually they believe their love of the product and service to be so strong that their attitude is build it and they will come. Sadly, that just isn't how businesses work now and in a world of start-ups and corporates all occupying the same space, consumers have more choice than ever before.
The reality is that your coffee shop or hotel or restaurant (to name a few) all need a proactive and highly skilled marketing manager to raise awareness, build a customer base and drive loyalty. But, the chances are that while your business owner and founder is amazing at making coffee, food and the best customer experience in town, they're not so strong at the digital marketing.
Lack of skills is likely to be one part of the problem, but another for certain will be the lack of time. I don't know any entrepreneur that has a spare 5 minutes in their day to take on extra duties.
That is why Fusion decided to change how we view marketing. Sure you can outsource and spend a fortune, or you can set things up once and let the system take care of everything thereafter. Work smarter, not harder was the advice that was always dished out to me, so it's been good to help our client actually live that mantra.
Imagine a situation where you had the ability to personally thank your clients for their visit, hours after they walked through your door and incentivise them to return, without even having to do a thing. Now imagine being able to ask your customers what their plans are for their birthday and even wish them happy birthday, again without even lifting a finger?
Powerful stuff, and all possible with automated remarketing that allows a busy business owner to get on with what's most important to them. No matter what the job is, we'd all appreciate a few extra hours back in our day. Make sure you have the tools in your business supporting you to find that time.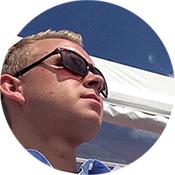 Paul Webster
Chief Operating Officer
COO at Fusion WiFi, Consultant at Silicon South. Proud Yorkshireman & Student of the Polish language.
Mainly responsible for shaping the financial and strategic direction of the business, but also love finding ways to create ROI for businesses and solving problems that they didn't know existed.  It's not about the WiFi, its about the interaction.