Earn more from your clients with Free WiFi
Fusion WiFi Partners earn monthly revenue for themselves and boost their product portfolio by being a Social WiFi Reseller. Our goal is to make you become a pro in the provision of Fusion WiFi.
Why partner with Fusion WiFi?
Knowledge Base
Your one-stop shop for common technical tutorials.
Insightful Data
Cloud portal to give you complete insight and control of your customers.
Global Management
Manage your client's routers from anywhere in the world.
Easy Billing
You bill your clients, we bill you at your discounted partner rate.
Easy Configuration
Automatic router configuration script generation.
Universally Compatible
Our system is MikroTik based and built to work with all access point vendors.
What is Fusion WiFi Whitelabel?
(ROI WiFi is an example brand name – this will be replaced by your company and brand)
Partner Or White Label Login Screen
Two social wifi reseller options available, White Label or an Authorised Partner.
Becoming a White Label Reseller gives you the ability to completely remove any references to Fusion WiFi.
Login URL becomes "freewifilogin.net"
Custom footer image
Supplied by Your Brand in the footer
Custom Terms and Conditions
ROI WiFi is an example brand name – this will be replaced by your company and brand
White Label Dashboard
(ROI WiFi is an example brand name – this will be replaced by your company and brand)
White Label is subject to a one-off setup fee.
Can I flash my own router to run your software?
This is not possible with the Fusion WiFi system. You can of course use your own MikroTik router.
Fusion WiFi can provide you with a pre-configured router from £30 + VAT and £7.15 next day UK postage (plus VAT).  If you prefer us to provide the router pre-configured, please contact your Partner Account Manager.
If you wish to acquire your own router, we recommend the following router for small and medium venues – https://routerboard.com/RB941-2nD-TC
For larger venues, the following router is more suitable – http://routerboard.com/RB2011UiAS-RM
We recommend contacting Fusion WiFi support if you have any doubts as to what specification of router would be best.
You can acquire MikroTik routers from many distributors, who are listed on the following webpage, https://routerboard.com/distributors
How do I setup additional access points?
Fusion WiFi's Social WiFi login system can be integrated with nearly all pre-existing wireless LANs. Because there's no requirement to edit or flash firmware on your existing access points we are able to quickly and easily connect our system using industry standard methods with very little disruption.
Without a managed switch

With a managed switch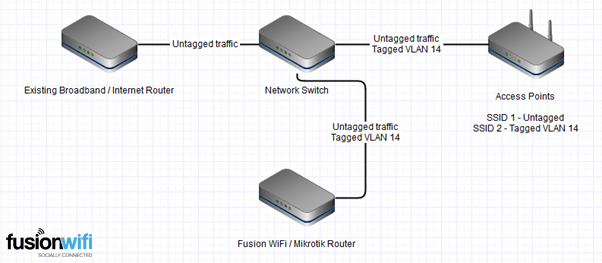 Do you offer white label for Social WiFi Resellers?
Yes, we do offer white label, this is subject to a certain criteria. A setup fee and monthly feel will apply.